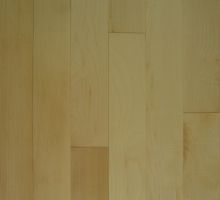 Species: Hard Maple
Grade: Premium
Colour: Natural
Price: $ 5.99 / sq. ft.
Width: 2 1/4 and 3 1/4 Designer Patterns "
2 1/4 and 3 1/4 Designer Pattern
GRADE DESCRIPTION
Premium is the clearest grade of hardwood flooring offered by Breeze Wood. This grade generally has the most consistent colour, limited character marks and longer average piece lengths. The shortest piece of flooring allowed in the Premium grade is 12 inches and the longest pieces are approximately 6.5 feet in length. There are no open characteristics in the Premium grade so therefore the floor does not require any wood filler. The 25 year limited warranty applies to this grade.
*NOTE: Prices subject to change without notice. Please contact Goodreau Sawmill for most current pricing.