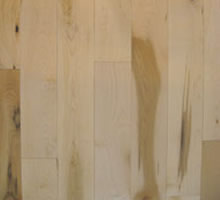 Species: Hard Maple
Grade: Classic and Better
Colour: Natural
Price: $ 5.00 / sq. ft.
Width: 2 1/4 and 3 1/4 Designer Patterns "
2 1/4 and 3 1/4 Designer Pattern
GRADE DESCRIPTION
This grade combines the natural beauty and unique characteristics of traditional mid grade flooring along with the top grades of flooring to produce a floor that displays more character than our Premium grade offers. Depending on the species of hardwood you will see some of the following characteristics in the Classic & Better grade; small knots, streaks, and unlimited natural colour variation. Coloured wood filler is used on any open characteristics that occur in this grade to produce a smooth surface of flooring. This grade is often chosen because of the natural character it will bring to a room! The 25 year limited warranty applies to this grade.
*NOTE: Prices subject to change without notice. Please contact Goodreau Sawmill for most current pricing.