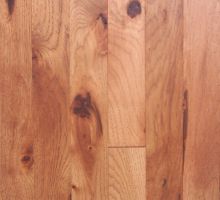 Species: Hickory
Grade: Rustic
Colour: Valley
Price: $ 3.99 / sq. ft.
Width: 2.25 "
Matte finish. Quantities available are limited at times.
GRADE DESCRIPTION
The Rustic grade by Breeze Wood offers a value priced hardwood floor with all the same milling and finish features as our other grade offerings. This grade of flooring contains all of the natural wood characteristics that occur in hardwoods such as; colour variation, knots of all shapes and sizes, mineral streaks, checks, worm holes and grain burls. The majority of the open characteristics in the Rustic grade are filled with non-shrink wood filler, with the exception of those that are on the edge or end. The Rustic grade has the shortest average piece length of the Breeze Wood grades, most pieces will be 10 inches to 30 inches in length. The Rustic grade results in a very serviceable floor, which lends itself well to various decorating themes. The final look of the product will depend to a great extent on the skill and craftsmanship of the installer. There are no warranties for this grade of flooring.
*NOTE: Prices subject to change without notice. Please contact Goodreau Sawmill for most current pricing.