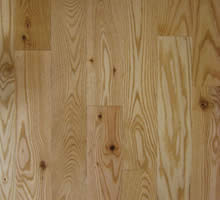 Species: Red Oak
Grade: Country
Colour: Natural
Price: $ 3.89 / sq. ft.
Width: 2.25 "
Matte finish.
GRADE DESCRIPTION
The Country grade by Breeze Wood is a specialty grade only used in Red Oak. It is a unique grade that offers a lot of character appeal to those who enjoy the natural look of real wood. Our country grade is created using a combination of rustic boards and semi-rustic boards that were not chosen for our Select & Better Red Oak grade. The board lengths in this grade are primarily 10 to 40 inches, with the occasional longer board. Our Country grade has all the same milling and finish features as our other grade offerings. There are no warranties for this grade of flooring.
*NOTE: Prices subject to change without notice. Please contact Goodreau Sawmill for most current pricing.