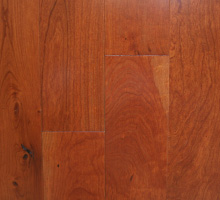 Species: Cherry
Grade: Plank
Colour: Legacy
Price: $ 5.98 / sq. ft.
Width: 5.25 "
GRADE DESCRIPTION
Have you heard the saying "everything that's old is new again" lately? This grade of hardwood flooring takes you back in time to the days of wide and long length plank flooring! This style of floor was popular in the past and now it is making its comeback to modern homes and cottages! To understand this grade please reference the other Breeze Wood grade descriptions because the Plank grade is a combination of the of the Rustic grade and Classic & Better grade that produces a unique and appealing solid hardwood floor! The wider width of flooring in the Plank grade accentuates the wood grain beauty of the floor. The 25 year limited warranty applies to the Plank grade.
*NOTE: Prices subject to change without notice. Please contact Goodreau Sawmill for most current pricing.