About Goodreau Sawmill & Woodworking
Established in 2001, Goodreau Sawmill & Woodworking has been providing experienced building contractors, and knowledgeable home owners with quality wood products at low manufacturer pricing. However, we did not just open in 2001. We actually made our footprint in the mid 70's starting as a logging company, supplying timber to other mills.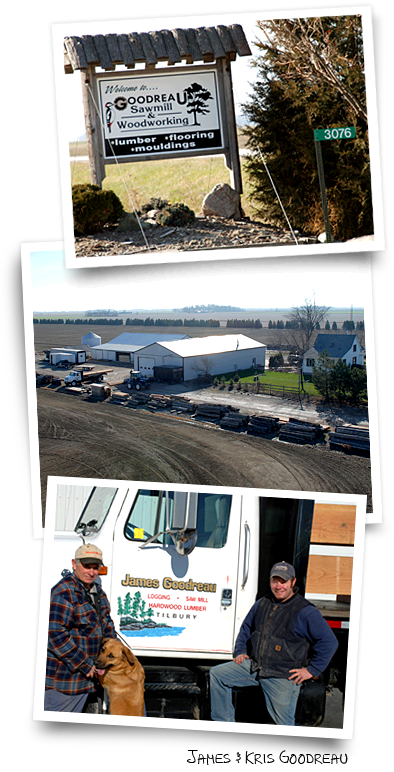 Our sawmill division began in 1989, producing rough cut green lumber for construction use, to the highest quality kiln dried lumber. In 2000, plans for a new state of the art shop for our moulding, flooring, and custom woodworking division were underway, and was accomplished the following year.
Area Leader
We live in a fast paced area where we must be able to meet the needs of our customers. We have evolved into a company that can manufacture endless custom products and have extensive knowledge to help you achieve whatever project you are undertaking. We can answer any questions you may have.
Un-Matched Quality
As a start to finish operation, we are able to be consistent in the grade and color of our lumber we cut, resulting in a more even final product. From the forest to your home, come see why we are truly in a league of our own.
Our Mission
What Makes Us Different?
Quality, Service, Value, and Dependability.
Quality: From rough cut timbers, to premium kiln dried lumber. We provide our customers with the highest quality products available in our area.
Service: We offer the widest variety of lumber products in our area. We have the knoledge to answer any wood related questions you may have. The ability to deliver our products, on time to your job site.
Value: We at Goodreau Sawmill will always focus to profitably exceed your expectations. To provide quality, value, and service through problem solving, innovation, and continuous improvement.
Dependability: Standing the test of time by building relationships with our customer and suppliers. We stand behind every product we sell, and any service we provide.